NEW-AGE MATERIALS
.

Published in: GRAND DESIGNS // EXPERT ADVICE // building
Understanding the long-term viability of introducing environmentally conscious materials into today's residential builds
t's time to stop using the same old building materials and start thinking about those we use internally and externally for retrofit or new construction. Today, more companies are becoming aware of consumer requirements and needs. And with increased consumer awareness in sustainable materials and products, companies are being forced to rethink their products, materials and marketing.
The long-term viability of introducing environmentally conscious materials into today's residential builds is paramount to maintaining a healthy planet. The introduction of these new-age materials will have a greater impact than just the products themselves, as consumers are starting to think and ask more questions about products other than just their usage.
Furthermore, there is an ever-increasing amount of awareness around the effects of building products and materials on our health and wellbeing. Does the product contain chemicals that may be detrimental to one's health? Does its composition have any adverse effects on the health of family pets or on the environment?
With the ability to purchase almost anything you can imagine, whether online or over the counter, companies are striving to capture the consumer dollar.
New ideas and materials are hitting the market at a greater pace than we have ever seen. At the same time, consumers want to know more about these products, their environmental impact and their sustainability credentials.
For a building supplies company to survive in today's competitive market, it must place greater emphasis on the sustainability of its products. It is also important for consumers to develop a greater understanding of the materials they want to use in their homes.
The composition, origin and life expectancy of the materials are all important points to note before including them in your design and build. If the material is made using a high chemical composition, will it be detrimental to your family's health or will it have future ramifications on the environment when it is eventually removed? It is important to know the life expectancy of the external and internal materials. And for outdoor materials in particular, considerations such as UV stability are crucial in our harsh Australian environment.
Consider the benefits of incorporating environmental materials in all projects.
If you are trying to be environmentally conscious, it is imperative to research the materials and products you are considering using. A sustainable and environmentally efficient home relies heavily on the choice or materials used. Do it right and do it once to avoid problems that can be very costly.
Although aesthetic appeal remains a fundamental concept in all design, it is also important to consider the sustainability of all building materials in the project. Here are some points to think about:
Are the materials on the
project compatible?
Can the materials have multiple benefits?
Could the texture of the materials have multiple benefits for acoustics and aesthetics?
Could the palette minimise external heat absorption while also reflecting internal light?
Not only are we seeing a revolution in internal products and materials, but people are also starting to use alternative products to brick and timber externally. Companies are manufacturing external wall linings that are quicker to install and have the appearance of existing surface finishes with the added benefits of insulation. Consumers, designers and builders must think more about product and material selection for all residential applications.
Many new-age materials outperform older materials, and with companies becoming more creative, we are seeing a rise in the number of products on offer that provide faster installation times, shorter construction times and shorter overall construction terms.
The long-time viability of introducing environmentally conscious materials is clear. So start researching and thinking about the products and materials you are able to incorporate into your project.
Consider the long-term benefits of your choices, and while you may pay a little more initially, you will have a house that performs better, is less dependent on mechanical heating and cooling, is kinder to the environment and far more aesthetically pleasing than a traditional build.
In building, just as in life, you always get what you pay for.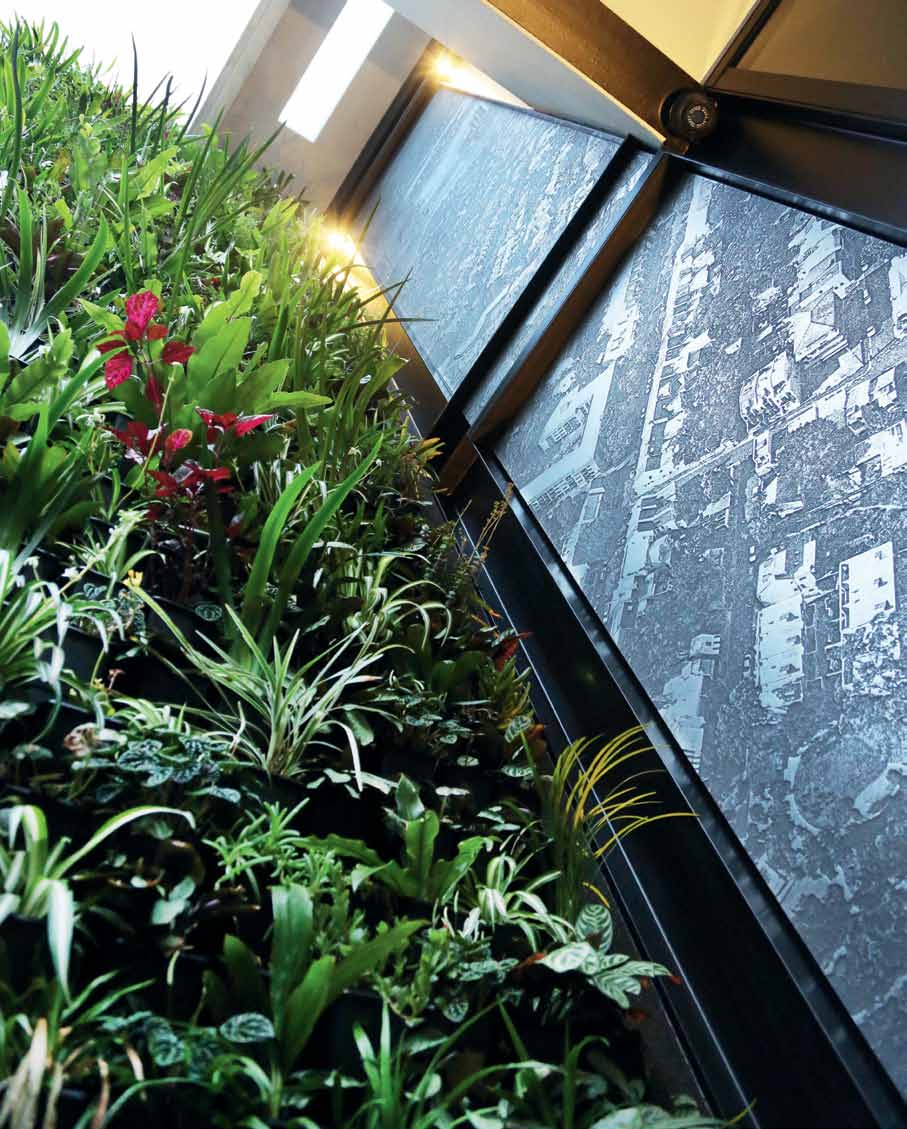 A house entrance with an aerial photograph of the home etched into the front door and panel, which is hand-finished in pewter. A vertical garden complements the entrance door. Designed by Code Green.
Door finish by Axolotl.
Photography by Belinda Mason
ANY OF THE NEW-AGE MATERIALS OUTPERFORM OLDER MATERIALS, AND WITH COMPANIES BECOMING MORE CREATIVE, WE ARE SEEING A RISE IN THE NUMBER OF PRODUCTS ON OFFER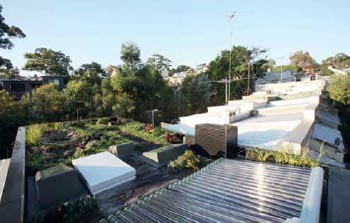 Green roof with photovoltaic solar tubes used for hot water and hydronic heating. An electric scissor staircase is fitted for easy access to the roof.
Share post: